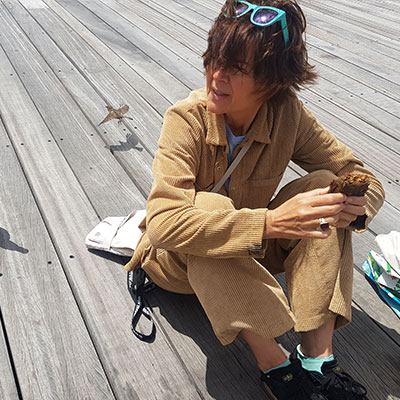 Rienke Enghardt
Bio:
Rienke Enghardt is a visual artist specialising in collective art and community art. In her individual work, she is a social soloist with robust imagery. In her art projects, Rienke is a realist idealist with a network of like-minded people.
Since 1991, Rienke has travelled the world with her collective artist project Weather Report. With this project, she explores the art climate and seeks dialogue to create, together with others, a more complete picture of reality. From there, she creates interactive exhibitions and mobile, social art projects collected in the Hope Box.
This way of living and working has given her an idiosyncratic view of the world and made her a passionate team player.
Between 2000 and 2005, Rienke is part of the Building Team of the NDSM Shipbuilding Wharf at the NDSM Werf in Amsterdam, contributing to its design. In 2006, her team of Hope Box Angels single-handedly builds the Hope Box Home. Currently, Rienke is part of the NDSM Fuse and Ballotage team of the NDSM Shipbuilding Shed.
Courses by this teacher: