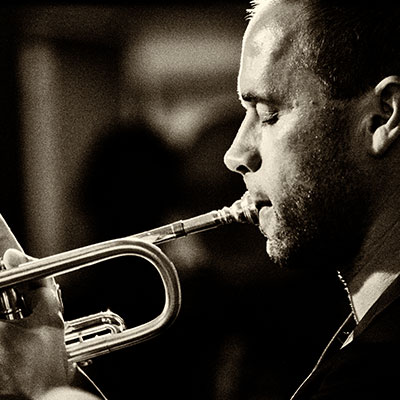 Daan Bogers
Bio:
Daan schreef zijn eerste orkestwerken op zijn 13e jaar. Hij studeerde vervolgens "Muziekproductie" en "Composition for the Media" in Hilversum, wat hij in 2004 "With Honours" afrondde. Een jaar later werd hij geselecteerd voor een compositieopdracht voor het Metropole Orkest onder leiding van Vince Mendoza. Sindsdien schreef Daan muziek voor vele orkesten uit allerlei genres.
Daarnaast zette hij een aantal eigen projecten op, waaronder zijn 10-koppige jazz and pop orchestra BOSCO, waarmee hij talloze festivalpodia betrad, vele theatertours verzorgde, meerdere opnames maakte en met vele artiesten uit allerlei genres werkte. Één van die samenwerkingsprojecten, waarvoor Daan bijna alle muziek arrangeerde en de muzikale leiding voerde, won in 2020 een Edison.
Een ander project waar hij als bandleider, producer, arrangeur én trompettist bij betrokken was, was de "Liptease Bigband". Met deze band speelde hij onder meer op grote festivals als "Paaspop" en "Concert at Sea" en stond hij in de finale van TV-programma "Holland's Got Talent".
Daan speelde met verschillende bands op festivals door heel Europa, van het North Sea Jazz tot Colours Of Ostrava. Artiesten waarmee hij werkte zijn onder meer Eric Vloeimans, Benjamin Herman, Adam Rapa, Johnny Rosenberg, Denise Jannah, Lilian Boutée, Trijntje Oosterhuis, Joke Bruijs, Steffen Morrison, Nurlaila Karim, Shirma Rouse, Dennis van Aarssen, Tim Akkerman en vele anderen.
Tevens was hij meermaals op televisie te zien en op radio te horen, en als zowel producent, arrangeur en trompettist bij verschillende studio-/albumproducties betrokken.
Zijn brede muzikale interesse bracht hem samenwerkingen met bands en orkesten uit allerlei genres; van klassieke muziek tot keiharde rock, van jazz tot filmmuziek.
Als organisator, adviseur en/of producer werkte hij voor o.a. het North Sea Round Town Festival, de Bredase Bigband Meeting, het Swing Festival Breda, Jazzmagazine 'Jazzism', het bureau BW Jazz Agency en MusIQ365/Live at The Library.
Daan wordt regelmatig gevraagd blazerssecties te coachen en (bigband)masterclasses te geven. Daarnaast dirigeerde hij o.m. de Bigband van de Nationale Reserve (o.a. Nacht van de Militaire Muziek 2017 & 2018), de Codarts Young Talent Bigband (o.a. tour Denemarken 2018), de Utrechtse Studenten Bigband (o.a. Montreux Jazz Festival 2016, winnaar "Big Battle" 2017 en 2019), The Duke City Bigband, Bigband BLAST!, de Amsterdamse Studenten Bigband en het Nederlands Studenten Jazz Orkest (o.a. North Sea Jazz Festival 2017). Met meerdere bigbands won hij diverse prijzen.
foto: Marijn Wandel
Cursussen door deze docent: